State of the Art Steel Fabrication Shop
We maintain a fully automated structural and miscellaneous steel fabrication facility with a 100 ton per day output capacity. Our state-of-the-art Peddinghaus CNC drill line, angle master and plate cutting machines allow us to fast-track jobs in record time.
Large Facility
Cutting Edge Equipment
Limitless Capabilities
Strict Quality Control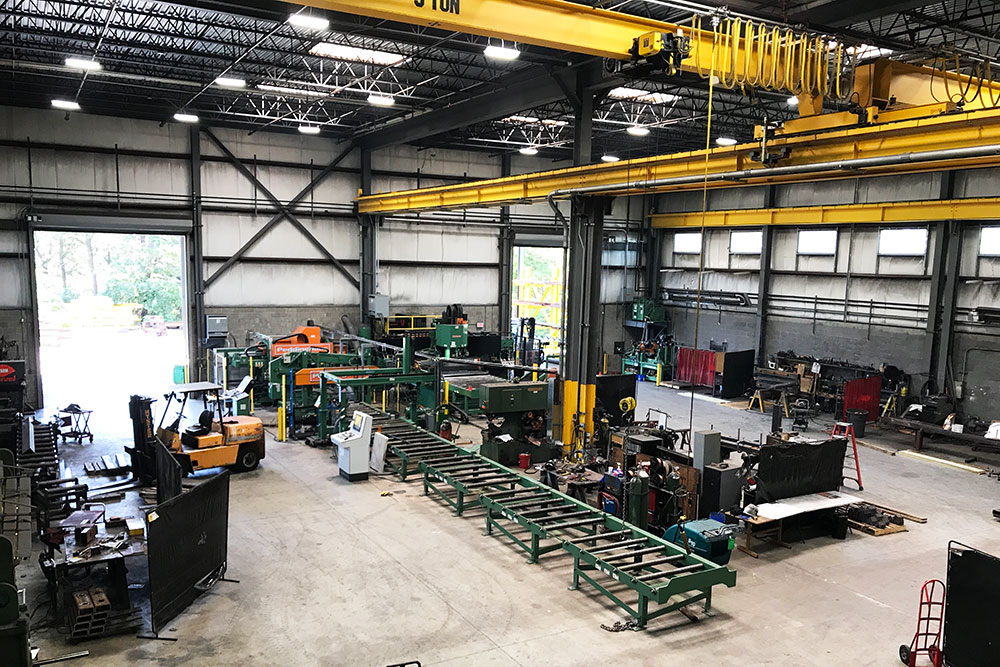 Welcome to Integrated Structures.

A 15,000SF state-of-the-art manufacturing facility

featuring 32' ceilings, 3 overhead cranes, oversized loading & the latest in cutting edge manufacturing equipment.
Fully Automated Machinery
Exclusively Focused on
Steel Fabrication
Once a project is detailed and approved, detailing data is downloaded to our CNC machines for fabrication. In-house supervision of all processes assures efficient turnaround of precision high quality parts.
Our in-house detailing capabilities use state-of-the-art, industry standard software, including AutoCAD, DetailCAD and StruCAD 3D modeling systems.
Peddinghaus HSFDB-2500
Plate Processor
The latest addition to our fabrication arsenal. This plate processor helps cut down production time when drilling, plasma cutting, oxy-fuel cutting, scribing, countersinking, milling, or tapping. We are capable to output 1 ton per hour with this plate processor.
Peddinghaus Advantage 2
Beam Drill Line & Band Saw
Our Peddinghaus Advantage 2 & PDC 1100 beam drill line processes an average of 150 tons of steel per work week with the most efficient drilling, milling, scribing, tapping and countersinking operations. This machine has helped us produce fabricated steel beams faster than ever before.
Peddinghaus Fully Automated CNC Equipment
1100DG Band Saw
BDL 1250 Drill
663 Angle Master
Peddinghaus HSFDB-2500
SWP 1200 Structural Beam Positioner
Sector Plasma Oxy Fuel CNC Controlled Burning Table
Ogden Dart IV DC/AC Tandem Arc Welding Machine
Ogden Dart 2108 Welder
230 Ton Cincinnati Brake
Pacific Press Shear
Marvel Band Saw
Peddinghaus Ironworker Punch
Hyster 4 Ton Forklift
Combilift
Contact Us for a Quote
Integrated Structures provides fabrication services to engineering firms, general contractors, original equipment manufacturers, industrial and oil and gas plants across the United States. We strive daily to distinguish ourselves as one of the premier fabrication firms for piping, structural steel, and general fabrication in the nation.
Looking for a quote for your next project? Contact us today.